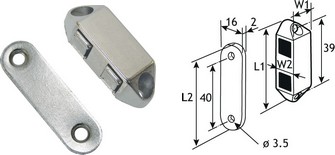 Metal Magnetic Catch
Nickel Plated Die-Cast Zinc Alloy
Magnetic catch comes with couterplate. Can withstand a force of 4 kg. Temperature resistance of 80°C.


tilausnumero
mitat (mm)
Std Pack Qty
hinta/pakkaus/kpl
Hinta per kpl
L1
W1
L2
W2
491981
49
16
56
16
100 kpl
14 EUR
22 EUR

Hinnat ovat ilman ALV:a ja ne ovat voimassa maksettaessa postiennakolla/jälkivaatimuksella.