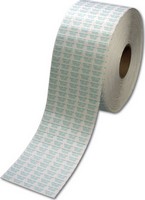 Remo Two™ - kiss cut pieces on a roll
Double-sided removeable adhesive foam pieces. Great for stickeng up temporaty signage or posters. Use for POS kits with single use graphits. Removeable adhesive both sides. Not recommended for appolications with direct UV exposure. Removes clearly from most hard non-delaminating surfaces. Ideala when removability is important from both sides.
tilausnumero
mitat
Pieces per Roll
kpl/pakkaus
hinta/pakkaus/kpl
hinta/pakkaus/kpl
vahvuus
Size
471103
25,4x76,2
0,8
2500 kpl
1
167 EUR
182 EUR
471170
25,4x76,2
3,2
2000 kpl
1
180 EUR
197 EUR

Hinnat ovat ilman ALV:a ja ne ovat voimassa maksettaessa postiennakolla/jälkivaatimuksella.