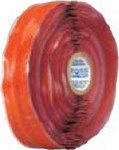 Eze- Wrap Tape up to +260°C
Silicone Rubber
Self-fusing tape, adheres to itself to form a homogenous mass, providing excellent sealing. Forms a homogenous mass within 24 hours at room temperature or four minutes at +180°C. No adhesive, therefore no residue when removed. Easy to mould to irregular-shaped objects.
tilausnumero
mitat (mm)
Std Pack Qty
hinta/kpl
leveys (mm)
pituus (m)
800/1
25,4
10,9
1 kpl
49 EUR

Hinnat ovat ilman ALV:a ja ne ovat voimassa maksettaessa postiennakolla/jälkivaatimuksella.