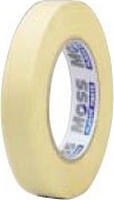 Paper Tape up to +180°C
Crepe Paper
Three versions of paper masking tape available, each covering different temperature ranges from +80°C to +180°C. General-purpose masking tape, suitable for most low-temperature applications and for use with synthetic enamels, cellulose and acrylic paints.
tilausnumero
mitat
Maximum
Temperature
Std Pack Qty
hinta/kpl
hinta/kpl
leveys (mm)
pituus (m)
400/25
25,0
50,0
+80°C
1 kpl
4,8 EUR
5,3 EUR
500/25
25,0
50,0
+135°C
1 kpl
5,7 EUR
6,2 EUR
900/18*
18,0
50,0
+180°C
1 kpl
20 EUR
22 EUR
900/25*
25,0
50,0
+180°C
1 kpl
28 EUR
31 EUR
*Polyester
General-purpose discs suitable for most masking applications including powder coating and anodising. Quick adhesion for time-saving application. Clean removal - leave no residue.

Hinnat ovat ilman ALV:a ja ne ovat voimassa maksettaessa postiennakolla/jälkivaatimuksella.